Coalition Calls on UN Expert to Investigate Claims of State-Backed Land Grabs in Cambodia
A global coalition of grassroots groups of small food producers and food sovereignty advocates has called on a United Nations
expert to probe allegations of state-perpetrated land grabs in Cambodia ahead of an upcoming review of the human rights situation in the country.

CISA Annual Report 2019
The Annual Report presents the Projects developed by CISA during 2019. This year, our efforts have been focussed on two main Projects:
1- Commune Level Organized Service and Engagement Gender Advancement Project (CLOSE-GAP)
2- Better Public Service Delivery through Implement the Social Accountability Framework (I-SAF) Phase II

VISSION
We wish to see Cambodia society with accountability, transparency, integrity, good governance, and equality enable citizens to live harmoniously.

MISSION
To work together with CISA's NGO members, citizens, and relevant stakeholders in preventing, fighting and eliminating corruption through capacity building, education, communication and advocacy to bring effective governance in Cambodia.

GOAL
To promote​ democracy, transparency, accountability, integrity, participation,  partnership and good governance at different stages in Cambodia.



OBJECTIVES
• To cooperate both nationally and internationally to monitor and to advocate for laws amendment, as well as promoting an effective law enforcement related to corruption in Cambodia.
• To provide the opportunity to share ideas, strengthen the solidarity and taking part on strategy-making processes of civil society organizations and other activists, in order to promote a quality governance and social accountability in Cambodia.
• To spread among Cambodian citizens and stakeholders the principles of accountability, the impacts of corruption into the society, knowledge about transparency and integrity, and relevant legal tools to prevent and fight corruption.
សន្និសីទសារព័ត៌មានស្តីពី,
«ការស្នើសុំលក្ខខណ្ឌអប្បបរមាសម្រាប់ការបោះឆ្នោតឃុំសង្កាត់ឆ្នាំ២០២២»
សន្និសីទសារព័ត៌មាននេះគឺ ក្នុងគោលបំណងដាក់បង្ហាញពីមតិយោបល់ និងអនុសាសន៍របស់អង្គការសង្គមស៊ីវិលនូវលក្ខខណ្ឌអប្បបរមា សម្រាប់ភាពស្របច្បាប់នៃការបោះឆ្នោតឃុំសង្កាត់ឆ្នាំ២០២២ ដែលអនុលោមតាមគោលការណ៍សំខាន់ៗ នៃការបោះឆ្នោតពិតប្រាកដដោយសេរី និងយុត្តិធម៌។ សន្និសីទសារព័ត៌មាននេះ តាមរយៈប្រព័ន្ធអនឡាញ Zoom នៅថ្ងៃទី១៤ ខែកក្កដា ឆ្នាំ២០២១ វេលាម៉ោង ៩:០០នាទី ដល់ម៉ោង ១០:៣០នាទីព្រឹក។
ចុចទីនេះដើម្បីទស្សនា
REPORTDOCUMENTSPEECHES - STATEMENTS
ABOUT US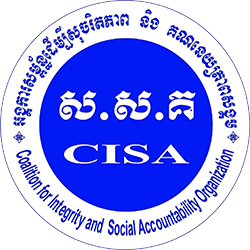 The Coalition for Integrity and Social Accountability (CISA) is a non-government organization, umbrella organization, registered on March 31, 2010 and re-registered on December 26, 2019 at Ministry of Interior.
FUNDED BY

THROUGH BY